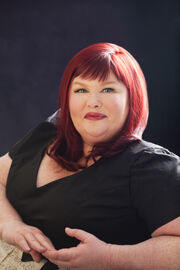 Cassandra Clare, real name Judith Lewis (née Rumelt), is the American author of the upcoming Sword Catcher adult high fantasy series. She is best known for writing The Shadowhunter Chronicles.
Personal life
Cassandra Clare was born to American parents in Tehran, Iran on July 27, 1973. As a child, Clare traveled frequently, spending time in France, England, and Switzerland before she was ten years old. Since her family moved around so much, she found familiarity in books and went everywhere with a book under her arm. She spent her high school years in Los Angeles where she used to write stories to amuse her classmates, including an epic novel called "The Beautiful Cassandra" based on a Jane Austen short story of the same name (and which later inspired her current pen name).
After college, Cassie split her time between California and New York where she worked as a journalist at various entertainment magazines and tabloids, including the Hollywood Reporter. She started working on her YA novel, City of Bones, in 2004. Cassie's first professional writing sale was a short story called "The Girl's Guide to Defeating the Dark Lord" in a 2004 Baen anthology of humor fantasy.[1] She turned to writing fantasy fiction full time in 2006, and City of Bones was published in 2007.
She currently resides in Amherst, Massachusetts, with her husband, Joshua Lewis.
External links
References